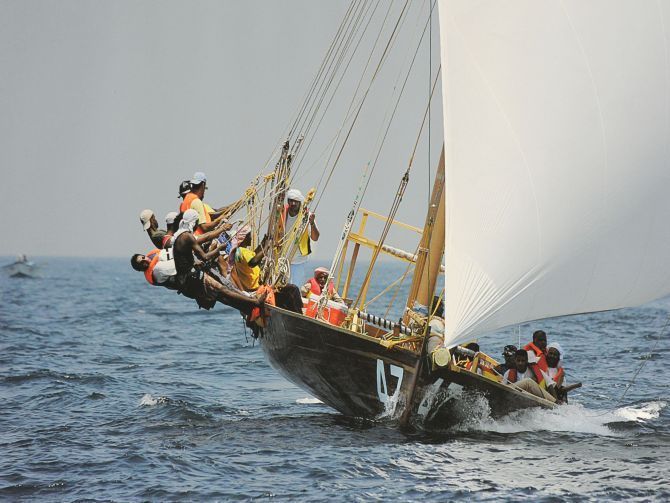 May 2016
The Al Gaffal Dhow Race, was designed to commemorate the pearl divers who were integral to the early trading port of Dubai. The race begins at the small uninhabited island of Sur Bu Na'air, 50 nautical miles west of the UAE, where the pearl fleets used to stop on their long journey home after months at sea looking for pearls to meet their families and loved ones.
Starting with 53 43-feet long dhows during the first competition in 1991, the race has grown into a major sporting event, featuring about 100 traditional third version traditional boats (60 feet), and has seen more than 3,000 participants sailing the waters of the Gulf.
The dhows today are pristine with beautifully polished hulls and crisp sails but still retain the traditions of the past with strict rules in place to maintain the heritage. The term Al Gaffal means "The Return" and will be the return of these dhow boats after up to eight hours of racing in scorching temperatures. The race will begin at Sir bu Nair, 50 nautical miles off the coast and finish at various locations such as Mina Seyahi or The Burj Al Arab.
To have the best experience of this traditional sporting event, the Dubai RTA offer ferry rides that follow the racers at various points around the marina.